This post contains affiliate links indicated by an *.
Headphones with glasses – it's an uphill battle against soreness and discomfort. I'm here to tell you that I think I've solved it! As my wife would probably tell you, I've been a serial headphone purchaser and most of the reason for this is the fact that as a glasses wearer, I generally find many headphones or gaming headsets incredibly uncomfortable. We gamers need our ears to be pain free while being scared witless by horror games, right?
I've tried multitudes of different brands, different styles from your on ear sets that hurt the centre of my ears after extended wear, to your wireless over ears and even in ear monitors. Frankly, nothing matches the comfort of a nice pair of over ear cans, so I decided to do a very quick video just showing you a couple of options that I've come up with. You can watch below or read on for further details!
One is a gaming headset with built-in microphone that I've extensively tested while wearing glasses and you can wear it for hours and hours in complete comfort! The other is a method to improve the comfort of a standard pair of headphones as an alternative for those who don't need a microphone built in, such as we streamers or content creators who tend to use a separate microphone.
Gaming Headset – Razer Blackshark V2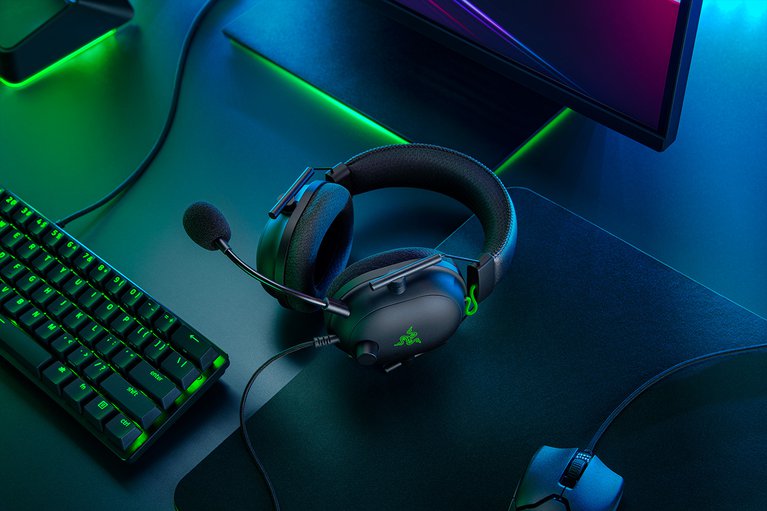 Option one is your typical gaming headset, the *Razer Blackshark V2 has a built in but detachable microphone, gamer styling, all the things you'd expect from a modern gaming headset. I've worn these extensively during streaming and gaming with no discomfort. The the best thing about them is that they're incredibly light, there's a comfortable amount of pressure on the side of the ears and quite luxurious cloth covered ear cups. Those of us who do wear glasses often battle against ear cups and pads on headsets that cause pain after extended use because of the way the stems of the glasses sit under them. I'd highly recommend these as they actually sound pretty damn good for the price, and are light and comfortable enough for any glasses wearer to be happy for hours.
Headphones – Replacement Ear Cups
Option two is for those of us who would prefer headphones if they use a separate mic or don't need to use one at all if the cans are for listening only. For people who like open back headphones (which are rare in gaming headsets), that give you a more open sound stage and that don't completely isolate you from the room, this is the best option. My preference are the *Beyerdynamic DT 990 Pros, but if there's a particular pair of open-back headphones that you're fond of you can do the exact same thing – change out the ear pads!
The standard pads that come with the Beyerdynamics are rather thin, very lightly padded, and don't provide much defence for the glasses wearer against the clamping force and weight of the headphones themselves. So, I purchased a relatively inexpensive set of ear pads from *Amazon, made by Brainwavz. These are a much thicker, luxurious, velour covered pad and after extensive testing, again while streaming and gaming, I can confirm that with these particular ear pads I've had no discomfort caused by my glasses at all.
Thankfully these particular ear pads aren't designed specifically for one set of headphones, they're designed so that they fit quite comfortably onto a variety of different headphone models and Brainwavz make a variety of shapes and sizes so that you can find a match for your favourite headphones easily and enjoy a more comfortable experience with your glasses on!
Gaming Headsets and Headphones – Wear Your Glasses in Comfort!
Hopefully I've helped someone here! The Razer Blackshark V2 is comfortable, inexpensive, light weight and easy to wear for extended gaming periods. An excellent option for somebody who's looking for an all-in-one solution.
For those of us who already have a set of headphones that we enjoy listening to, there is the option to increase comfort by changing out the ear pads. This method is cheap, preserves the use of your favourite headphones or expands your choice in terms of fit and design if your currently in the market for headphones and want to ensure a good fit over your glasses. The Brainwavz pads are wonderfully comfortable and available in all kinds of different shapes and sizes. All you need to do is take a few measurements and find a set that fits your headphones.
Do you have a favourite set of cans? Any advice for your fellow glasses wearers?